I:REVERSIBLE @ Institut Français & Underdogs Gallery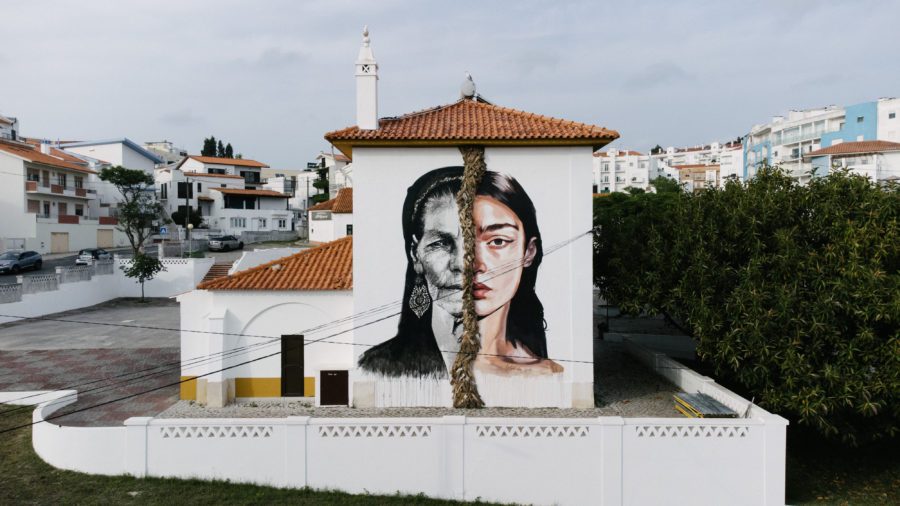 For the "(No) Borders » project, Underdogs Gallery invited French artist Yseult YZ Digan and Portuguese artist Tamara Alves to create a collaborative intervention in Nazaré.
The pair created "I:REVERSIBLE", a tribute to the ancestral and predominantly female practice of fish drying in Nazaré, which is in danger of disappearing. Giving it pride of place in a privileged part of the city, YZ developed a portrait of one the last guardians of this valuable knowledge, standing as a warning about the loss of tradition and leading us to think about what can and should be done to preserve it. In turn, Tamara Alves created a composition of a young female figure, representing the possibilities for the future and questioning how we can cherish this practice while creating a new narrative in which women are in full control of their decisions, choices and destinies.
Developed in the scope of Saison Croisée 2022 "(No) Borders" is a project that invites Portuguese and French artists to come together and create collaborative public art interventions in four coastal sister cities between Portugal and France: Nazaré – Capbreton & Porto – Bordeaux.