LOST IN THE CITY PARIS @ Londres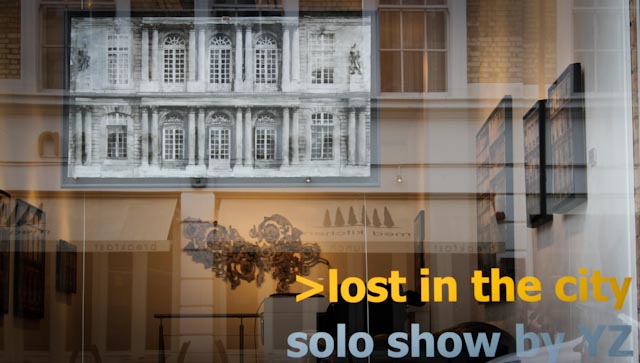 DU 2 AVRIL AU 27 AVRIL 2014, EXPOSITION « LOST IN THE CITY » A FRENCH ART STUDIO A LONDRES.
'LOST IN THE CITY' IS THE FIRST SOLO SHOW BY FRENCH STREET ARTIST YZ IN THE GALLERY FRENCHARTSTUDIO IN LONDON WHERE HER LATEST WORK WILL BE PROUDLY SHOWCASED.
FROM AN ARCHITECTURAL PERSPECTIVE, YZ QUESTIONS THE DUALITY OF TWO CITIES OF GREAT MEANING TO HER: PARIS VS. HONG-KONG. FROM HER STUDIO'S WORK TO HER IN-SITU PERFORMANCES, YZ BEAUTIFULLY AND SOUNDLY REVEALS THE SPECIFICITY OF PARIS AND HONG-KONG IN ORDER TO CONFRONT THEIR PAST, REVEAL THEIR PRESENT AND QUESTION ABOUT THEIR FUTURE WHERE MAJOR URBAN ISSUES ARE CURRENTLY ARISING.
AS A RESULT, 'LOST IN THE CITY' IS A FASCINATING JOURNEY THROUGH THESE TWO CITIES. BY PUTTING ARCHITECTURAL ELEMENTS SUCH AS FACADES, MONUMENTS, ORNAMENTATIONS AT THE FOREFRONT OF HER WORK, YZ OFFERS HERE AN IN-DEPTH QUESTIONING AND UNDERSTANDING OF EACH CITY, AND HELP US TO REALIZE WHAT MAKE THEM SUCH UNIQUE AND FASCINATING PLACES. THE ARTIST GETS INTO THE CONFRONTATION EVEN FURTHER WHEN SHE INTEGRATES CLASSIC ARCHITECTURAL ELEMENTS FROM PARIS INTO ASIATIC TRADITIONAL RUN DOWNED SURROUNDINGS. THIS LEADS TO A GREAT AESTHETICAL EMOTION AND EVENTUALLY REVEALS A HIDDEN LINK BETWEEN TWO PLACES WE BELIEVED SO MUCH APART THEN.
'LOST IN THE CITY' OPENING RECEPTION WILL BE ON 1ST APRIL FROM 6.30PM.
PLEASE RSVP TO RSVP@FRENCHARTSTUDIO.COM IF YOU WANT TO JOIN THIS EXCEPTIONAL EVENT AND GET THE OPPORTUNITY TO MEET WITH THE ARTIST.
THE FRENCH ART STUDIO, 58 GLOUCESTER ROAD, LONDON, SW7 4QT